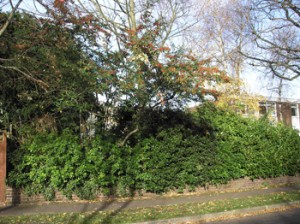 The Company now spends in the region of  £350,000 each year on recurrent expenditure and estate improvements, including the  maintenance of roads, footpaths, verges and trees, together with traffic control costs, administration and legal, insurance and audit expenditure.
Estate improvements include an ongoing programme of patching, resurfacing (and sometimes reconstruction) of roads, and of improvements to pavements, street lighting and drainage.
The major source of income to fund these expenses is the Estate Charge payable by each individual property and levied, in arrears for the previous year, at the beginning of each January.
The Estate Charge is calculated by multiplying a 'frontage' (in feet) by an amount per foot.  The 'frontage' may either be an actual measured frontage onto the road, calculated to the nearest foot; or it may be a notional frontage that has been negotiated between the Company and the developer or subsequent owner, and agreed within the assignable contract Deeds.
Some of the autonomous Span estates on the Cator Estate are charged
per estate, and they pass on the BCER Ltd Estate Charge within a charge levied on the residents concerned.  The Estate Charge is a legally collectable debt and the details are contained within the Deeds of each individual property.
The 2022 Annual Review was issued to residents with the Estate Charge invoices and a copy can downloaded here 2022 Annual Review