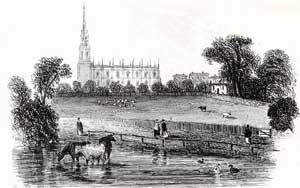 The Blackheath Cator Estate comprises 282 acres just south of Blackheath Village, between Lee Road to the west, Morden Road to the east and Manor Way to the south. These private roads were laid down in the 1820s, some years after the purchase of the land by John Cator in 1783 when the Estate included a substantial mansion – Wricklemarsh House – and a few small houses. After its owner, Sir Gregory Page, died in 1775 the house was considered a white elephant and suffered some vandalism. Consequently, John Cator was able to purchase the Estate at the preferential price of £22,550, but being unable to sell the house he demolished it, selling off the component parts. Some foundations may survive under the junction of Pond Road and Blackheath Park. As to other significant buildings, The Paragon, South Row and Montpelier Row were all in place by 1800.
John Cator died in 1806 when most of the land was still in farming use, and the Cator family with fellow trustees continued to administer the Estate until 1965. From the 1820s there was a gradual development of quality houses starting in Blackheath Park, Priory Park, and Meadowbank. Pond Road was developed in the late 1820s, and Morden Road in the 1850s.
To maintain the exclusive nature of their estate, the Cators erected lodge houses at each of the main entrances. These were occupied by resident keepers engaged to ward off beggars and itinerant salesmen and, in the early years, to distribute letters and parcels.
The most dramatic changes to the Estate came after World War II with the building of municipal flats and houses, some enabled by compulsory purchase of the land. The Brooklands and Pond Road estates were carefully designed to fit in with the Cator Estate's environmental qualities. Then, in 1957, came the first schemes of Span housing designed by architect Eric Lyons. Many were built, controversially, on the sites of early Victorian houses which were demolished to make way for the new developments.
The formation of a Blackheath Cator Estate residents' association in 1950 was primarily intended to unite individual opposition to destructive town planning proposals. But in 1965 its remit was widened by taking over the ownership of the roads and the administration of the Estate from the Cator family trustees, and in 1982 it was re-named the Blackheath Cator Estate Residents Ltd.